Lee's wife was Margaret Thomas Lee, a free woman (possibly Mulatto or Native American) from Philadelphia who had worked as a servant in Washington's headquarters during the war. Although slave marriages were not recognized by Virginia law, in 1784, at the couple's request, Washington tried to arrange having Margaret move to Mount Vernon to live with her husband. Whether or not she ever came to Mount Vernon is unknown.[4]
Whether Margaret Thomas died in 1801 or later, she was unlikely to not have been considered the wife of William as of the 1786 property listing by George Washington. And in the Christian mindset of George and Martha Washington (devout Episcopalian), they would have allowed William as a slave to marry again sometime before the property listing by George Washington in 1799. Records confirm that William chose to remain at Mount Vernon in his legal status as a pensioned slave following the death of George Washington in 1799. His decision to retain the status as a slave explains why he was not listed in the Arlington County registry of free Negroes in accordance with Virginia law. William Lee returned to Virginia with George Washington following the war and short stay in Philadelphia, but without a wife.
We have reasoned that William Lee, a continuous body guard and servant to George Washington, was absent from the vicinities of Mount Vernon Virginia during the war years of 1775 to 1783; and during the interim years of 1783-1785 in Philadelphia he was married to Margaret Thomas, a free woman.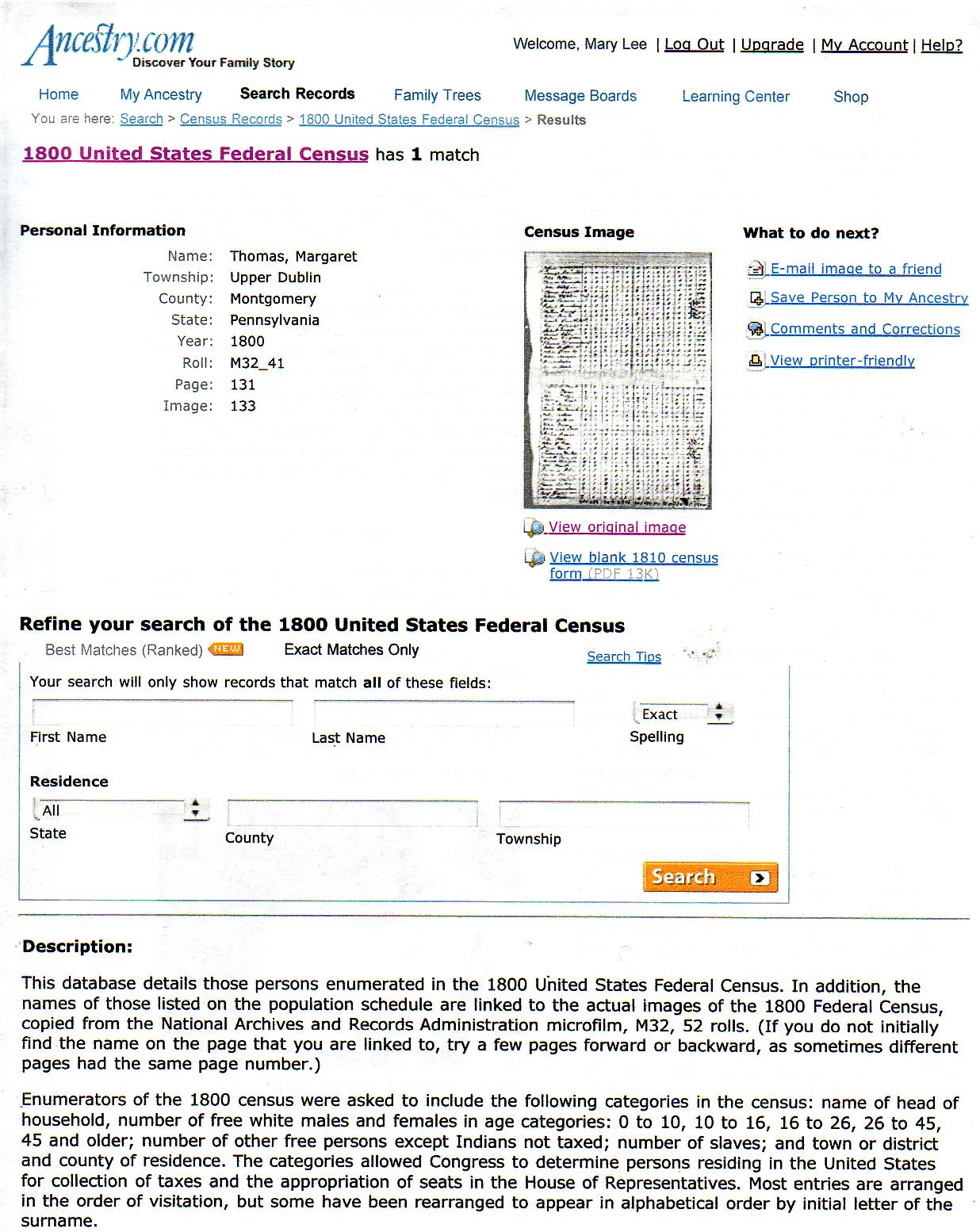 In 1785, Lee injured a knee while on a surveying expedition with Washington. Three years later, while going to the post office in Alexandria, he fell and injured his other knee, rendering him seriously disabled. When Washington was elected president in 1789, Lee attempted to make the journey to New York City for the inauguration, but had to be left in Philadelphia for medical treatment. He was attended by several physicians, who made a steel brace for his knee that allowed him to join Washington's presidential household. Frank's nephew, Christopher Sheels, assisted Lee in New York City, and took over Lee's duties in 1790 at the Philadelphia President's House. This more or less confirms our belief that Christopher Sheels is not the person portrayed in the official painting of George Washington and his family for posterity sake.
When Washington died in 1799, he freed William Lee in his will, offering freedom to "his faithful services during the Revolutionary War". Lee was the only one of Washington's 124 slaves that could be freed outright in his will; the remaining slaves owned by Washington were to be freed upon the death of Martha Washington. (Another 153 slaves living at Mount Vernon were the property of Martha's first husband's estate, and could not be freed by Washington.)[5] Lee was given a pension of thirty dollars a year for the rest of his life, and the option of remaining at Mount Vernon if he wanted. Lee chose to live out the rest of his life at Mount Vernon, where he died in 1828 and assumed buried near his brother Frank who died in 1821. In 1863, the two brothers were joined in the slave cemetery by West Ford who they obviously had known and nurtured when he had lived at Mount Vernon following the death of George Washington and ownership by Bushrod Washington. Click below for Mount Vernon Ladies Association report about whether or not George Washington was father of West Ford:
"If Billy Lee had been a white man," wrote historian Fritz Hirschfeld, "he would have had an honored place in American history because of his close proximity to George Washington during the most exciting periods of his career. But because he was a black servant, a humble slave, he has been virtually ignored by both black and white historians and biographers."[3]
Washington and Lee were famous men, master and slave, portrayed by many artists and illustrators during and after the revolutionary war and even after both were dead. Below are examples by artists/illustrators who likely never saw them but used illustrations from other artistic renderings even in France wherein the French influence is apparent: left hand over his breast and a horse with braided tail, European style.