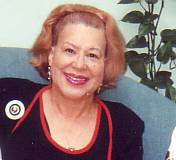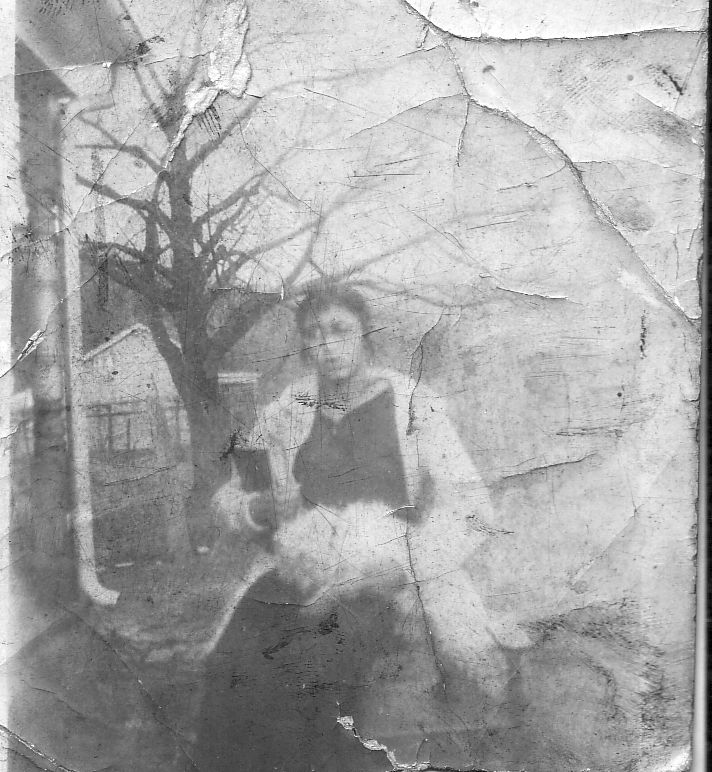 Cora Lee Hill was a gifted child born in Salem, Virginia during June 1907 the daughter of Lilly Finney Hill and William Hill.
African American Salemites Have
Born in generation #64 since the birth of Christ (births 1890-1919), "Proud Cora" (as she was called by family members) was loved and indoctrinated by generations of Finney, Hill, Kyle, and Lee ancestors in the body and spirit of Jesus Christ, ... up from slavery via the great emancipation war that liberated four million human beings in bondage (the good and not so good of "the least of us").
From childhood on to adult-hood, in the home, church, school and especially college, ... Cora was among many indoctrinated with callings from people like Booker T. Washington and Mary Church Terrell urging youth to become self-sufficient and be one of "the New Mothers" to raise up "The New Negro" for uplifting of "the colored race."
National Association of Colored Women's Clubs - Wikipedia, the free encyclopedia
Cora learned to read by three years of age, and by her sixth birthday was accomplished enough via piano lessons to accompany the senior choir at the First Baptist Church in Salem; and, at ten years of age became it's first ever organist. She was raised in a home wherein her mother, father and grand-mother were literate enough to value reading. William Hill was particularly pleased to bring home daily and weekly newspapers, including the Pittsburgh Courier and Chicago Defender for his family to read and discuss.
One of her great benefactors was an uncle Henry Hill who worked as the janitor at Roanoke College and often retrieved books discarded there and brought them home for his family youth like Cora. He was in a position to acquire reading materials for Cora that perhaps included books such as:
The story of the Illinois Federation of Colored Women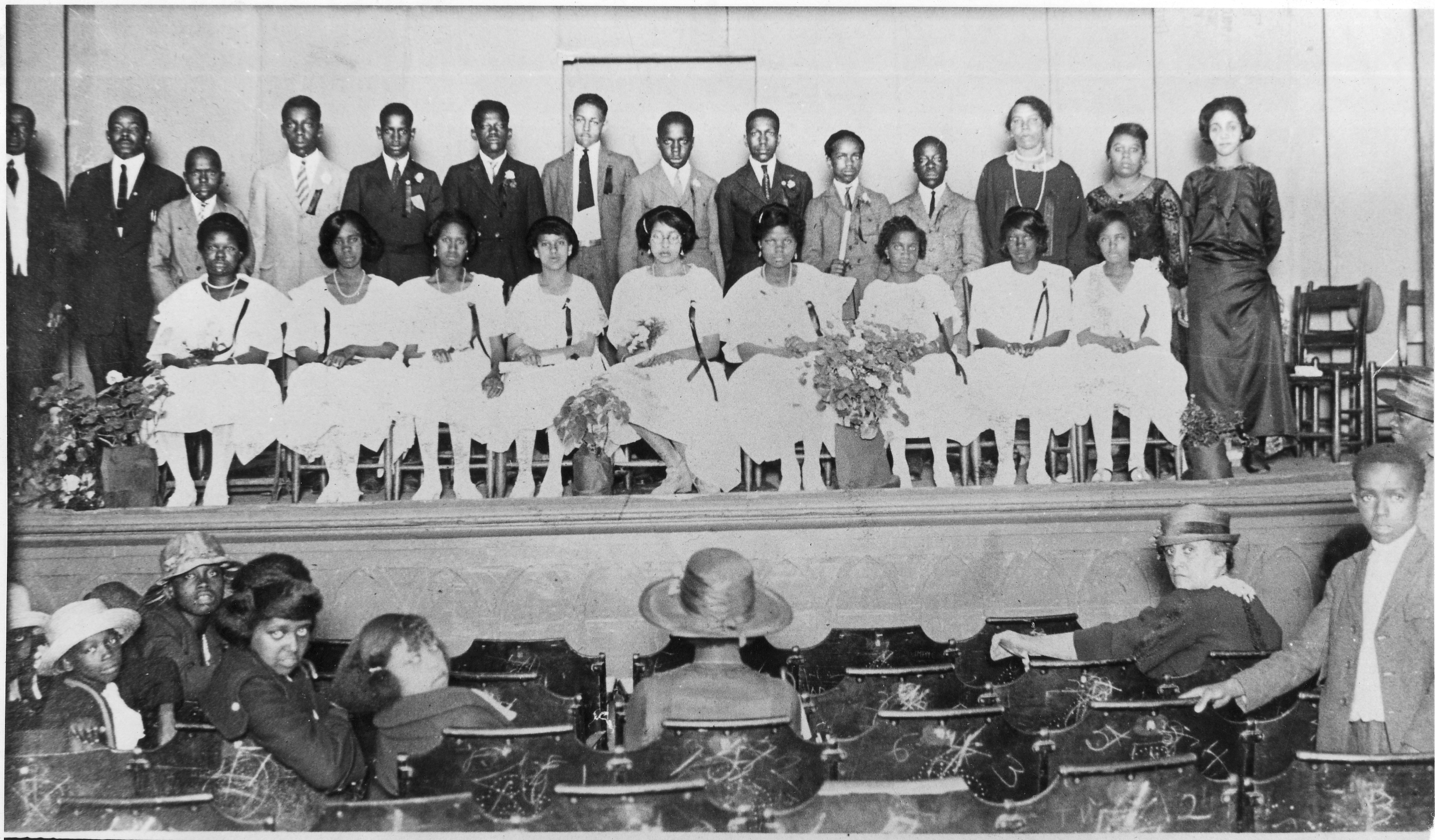 Cora's love of reading allowed early passage through grammar and high school by age 16 years wherein she was Val Victorian of her (above center, front row)1923 graduating class from Roanoke Training School for Colored Youth, (witnessed in picture left to right above by her father William's mother Gilly Frog Finney Lee Hill, born abt 1845 (generation #62), younger sister Francis Frog Finney Hill, born 1910 and Cora's mother in hat above, face not seen Lilly Frog Finney, born abt 1879 (generation #63) images evidenced by offspring generation pictures of below teachers:
Ann Louise Finney Hill Atkins, born 1943 and Lois Jean Finney Hill Atkins, born 1947
Cora's lifelong friend was Gertrude Martin Logan (also pictured in class above) who also heeded Booker T. advice: gained a marketable skill in female hair care and opened a prosperous beauty parlor made possible by women like:
Madam C. J. Walker - Wikipedia, the free encyclopedia
Cora, other youth like her and their parents were very much encouraged to become teachers by the motivations of 63rd generation women like:
Lucy Addison - Wikipedia, the free encyclopedia
And at 19 years of age, Cora began her training as a teacher and in 1928 graduated from Virginia State College in Petersburg under the stewardship and teaching of Professor-President John M. Gandy who greatly inspired her philosophy of life.
John M Gandy had been born in Mississippi during the first generation of free births generated by the four-million men, women and children emancipated by virtue of the Civil War and 13th amendment to the United States Constitution in year 1865. Like Booker T. Washington, Gandy had seen the aftermath of several generations of chattel slavery with realties of human beings kept and herded about to be little more than illiterate beasts of burden without community in Christ or each other.
And, like Booker T., he had also gained the enlightenment to witness Messianic Christianity by men and women from New England such as General Armstrong and others fostering functional Presbyterianism (teaching, preaching and hard work) to help heal the wounds in body and spirit of Christ.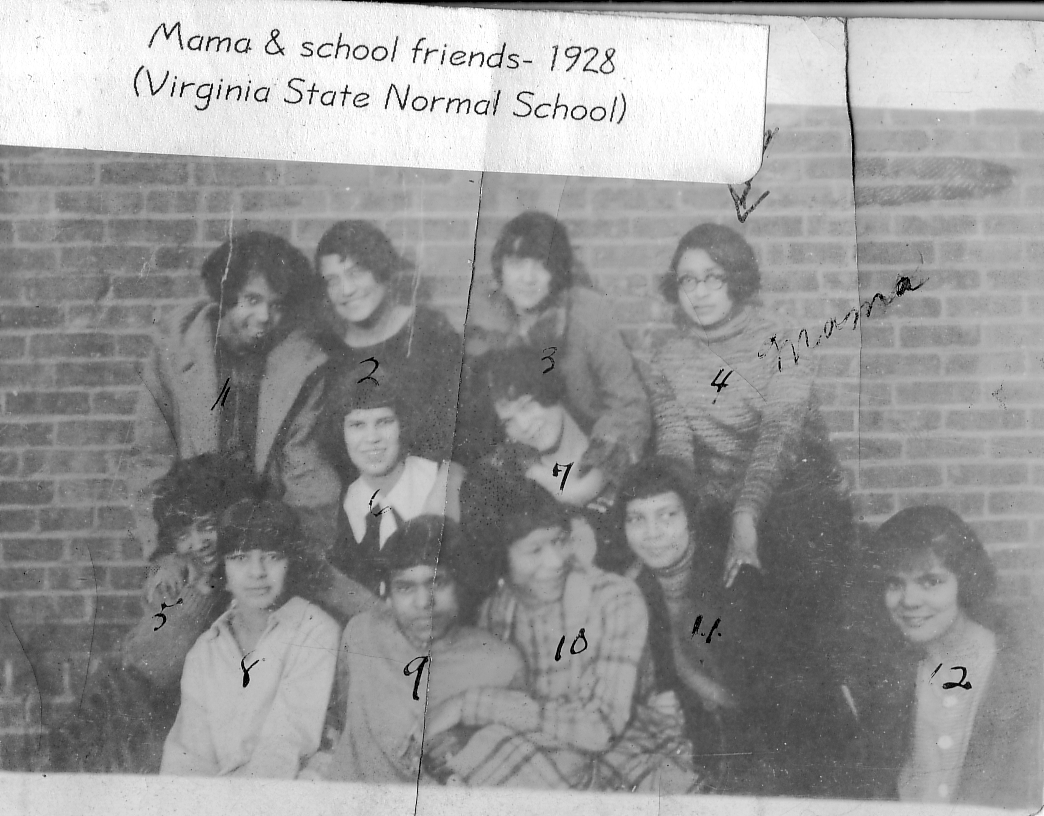 Courses of study for teachers specified by State of Virginia were very Jeffersonian and included not only history of "The Virginia Commonwealth" but also geography and places wherein "the least of us" lived and waited for salvation from their ignorance.
A long-lasting academic core requirement for education majors to graduate were very challenging courses in "Philosophy and Religion;" along with the much feared "English Comprehensive Examination" in which all students had to compose and write a 500 word perfect essay depicting an acceptable philosophy of life.
The home-coming each year for graduates like Cora was to "go and tell" faculty what was seen and heard in their work as teachers. For Gandy, there was no other place to begin educating youth without assuring enlightenment, and like Hampton, Tuskegee and other colleges for Negroes, ... their mandatory chapel attendance was twice per week for meditation "quiet enough to hear God speak" (a tradition that lasted until at least the tumultuous 1960s of imitating student rebels without a legitimate cause.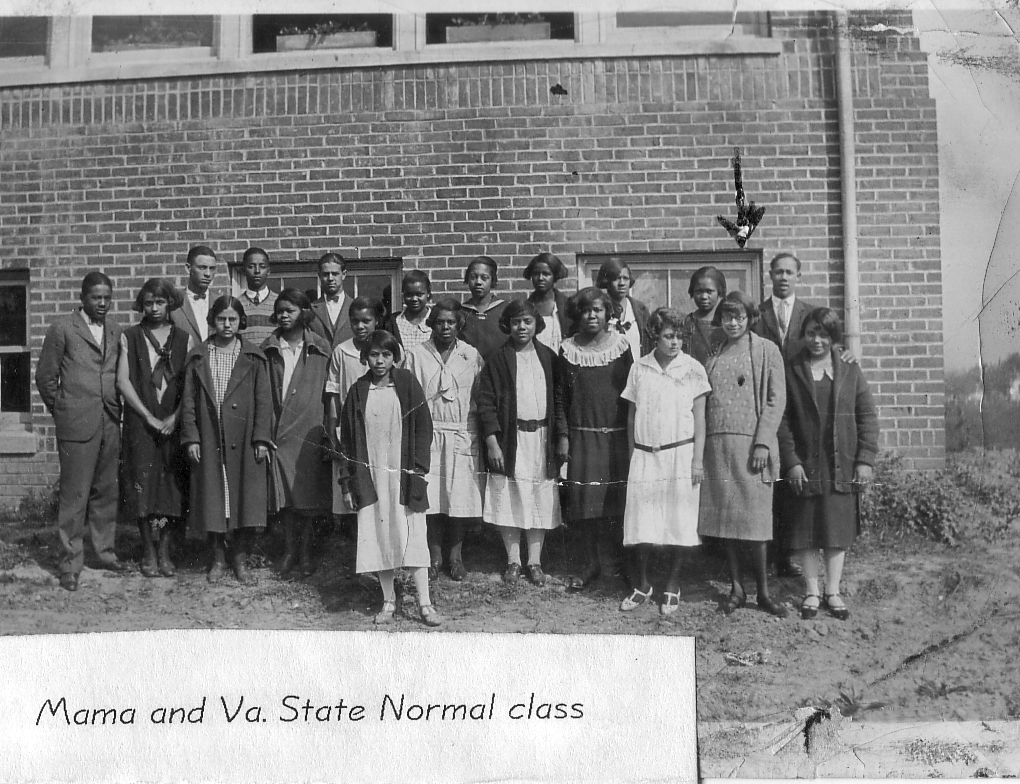 Cora was in the second offspring generation of beneficiaries up from slavery, ... owing a courageous generation of young men (some her relatives) who fought the good fight that she might be born free in America. She was very proud of her heritage from many young men who had died in the Civil War.
Virginia State College and other institutions for African-Americans in early decades of the 20th century were very much organized and focused on motivating gifted and talented youth like Cora to go out and help "the least of us" ... by not only education and health care but also being model families by which many might learn to live better lives including marriage and procreation of a better and more useful generation in the body and spirit of Christ.
The dominant view evolved was that teachers should graduate with a philosophy of life that would sustain their Christian mission to teach and most institutions required at least one course in philosophy and religion. Chapel attendance was required twice per week and normally a prominent area minister (college educated) would be invited to deliver a sermon during either the Sunday morning or Wednesday afternoon assembly.
They all echoed Booker T. Washington and his Presbyterian mentors at Hampton that teachers should learn to use the bible as a teaching tool rather than imitating plantation preachers. One of her favorite lessons and sermons throughout her life would be that written by the Prophet Isaiah such as:
Isaiah 54 >>
Wesley's Notes on the Bible
---
1
Sing, O barren, thou that didst not bear; break forth into singing, and cry aloud, thou that didst not travail with child: for more are the children of the desolate than the children of the married wife, saith the LORD.
54:1 Sing - The prophet having largely discoursed of the sufferings of Christ, and of the blessed fruits thereof, and here foreseeing that glorious state of the church, he breaks forth into this song of triumph. And as the foregoing chapter literally speaks of Christ, so doth this of the church of Christ. This church, consisting at first of the Jews, and afterwards of the Gentiles, had been barren, 'till the coming of Christ. The desolate - The church of the Gentiles, which in the times of the Old Testament was desolate, does now bring forth to God a more numerous posterity than that of the Jews.
2 Enlarge the place of thy tent, and let them stretch forth the curtains of thine habitations: spare not, lengthen thy cords, and strengthen thy stakes;
54:2 Enlarge - That it may be capable of the Gentiles, who shall flock to thee in great numbers. Strengthen - That they may be able to support that great weight which the tents thus enlarged, shall be upon them.
3 For thou shalt break forth on the right hand and on the left; and thy seed shall inherit the Gentiles, and make the desolate cities to be inhabited.
54:3 For - Thou shalt bring forth a multitude of children; for this word is commonly used of any extraordinary propagation of living creatures. On the left - On every side, in all the parts of the world. Thy seed - Thy spiritual seed, the church of the New Testament, which is accounted Abraham's seed, or children.
4 Fear not; for thou shalt not be ashamed: neither be thou confounded; for thou shalt not be put to shame: for thou shalt forget the shame of thy youth, and shalt not remember the reproach of thy widowhood any more.
54:4 Ashamed - For the barrenness and widowhood, which once was the matter of thy grief and shame. Forget - Thou shalt not be upbraided with thy former barrenness in thy youthful state.
5 For thy Maker is thine husband; the LORD of hosts is his name; and thy Redeemer the Holy One of Israel; The God of the whole earth shall he be called.
54:5 Thy maker - Will own thee for his spouse. The Lord - Who hath the sovereign command of all men and creatures, and therefore can subdue the Gentiles to thee, and can make thee to increase and multiply in so prodigious a measure, even in thine old age, notwithstanding thy barrenness in the days of thy youth, of which he speaks in the foregoing verse . The God - The God and father of all nations, whereas formerly he was called only the God of Israel.
6 For the LORD hath called thee as a woman forsaken and grieved in spirit, and a wife of youth, when thou wast refused, saith thy God.
54:6 Called thee - To return to him. As forsaken - When thou wast like a woman forsaken. And grieved - For the loss of her husband's favour. Of youth - As affectionately as an husband recalls his wife which he married in his youth.
7 For a small moment have I forsaken thee; but with great mercies will I gather thee.
54:7 For a moment - In comparison of God's everlasting kindness. Gather thee - From all the places where thou art dispersed, from all parts of the world.
8 In a little wrath I hid my face from thee for a moment; but with everlasting kindness will I have mercy on thee, saith the LORD thy Redeemer.
54:8 With everlasting kindness - With kindness to thee and thy seed through all succeeding generations.
9 For this is as the waters of Noah unto me: for as I have sworn that the waters of Noah should no more go over the earth; so have I sworn that I would not be wroth with thee, nor rebuke thee.
54:9 This - This covenant of grace and peace made with thee shall be as certain and perpetual as that which I made with Noah, that there should never be another flood to drown the world. Wrath - So as to forsake thee utterly.
10 For the mountains shall depart, and the hills be removed; but my kindness shall not depart from thee, neither shall the covenant of my peace be removed, saith the LORD that hath mercy on thee.
54:10 The mountains - Shall sooner depart from their places than any kindness shall depart from thee. The covenant - That covenant whereby I have made peace and friendship with thee, and have promised to thee all manner of happiness. God will not cast off his Christian church, as he cast off the church of the Jews, the New covenant is established upon better and surer promises than the Old. The Lord - Who doth this not for thine own merits, but merely for his own grace and mercy.
11 O thou afflicted, tossed with tempest, and not comforted, behold, I will lay thy stones with fair colours, and lay thy foundations with sapphires.
54:11 O thou - Who hast been, in a most afflicted and comfortless condition. With sapphires - I will make thee exceeding beautiful and glorious, by a plentiful effusion of excellent gifts, and graces.
12 And I will make thy windows of agates, and thy gates of carbuncles, and all thy borders of pleasant stones.
54:12 Agates - The proper signification of the Hebrew names of precious stones is unknown to the Jews themselves. It may suffice us to know that this was some very clear and transparent, and precious stone. Thy borders - The utmost parts or walls.
13 And all thy children shall be taught of the LORD; and great shall be the peace of thy children.
54:13 Taught - Not only outwardly by his word, but inwardly by his spirit. The peace - Inward peace arising from the clear discoveries of God's love and reconciliation to us, and wrought by the spirit of adoption, which is more abundantly given to believers under the gospel, than under the law. Outward peace, safety, and happiness.
14 In righteousness shalt thou be established: thou shalt be far from oppression; for thou shalt not fear: and from terror; for it shall not come near thee.
54:14 Established - Thine affairs shall be managed with righteousness, which is the glory of any society. Oppression - Either by thine own governors, or by foreign powers.
15 Behold, they shall surely gather together, but not by me: whosoever shall gather together against thee shall fall for thy sake.
54:15 Behold - It is true some will combine and make an attempt against thee. But - Without any such commission from me, as Sennacherib and Nebuchadnezzar had.
16 Behold, I have created the smith that bloweth the coals in the fire, and that bringeth forth an instrument for his work; and I have created the waster to destroy.
54:16 The smith - Both the smith that makes warlike instruments, and the soldier that uses them, are my creatures, and totally at my command, and therefore they cannot hurt you without my leave. The waster - To destroy only whom and when I please.
17 No weapon that is formed against thee shall prosper; and every tongue that shall rise against thee in judgment thou shalt condemn. This is the heritage of the servants of the LORD, and their righteousness is of me, saith the LORD.
54:17 Condemn - And I will deliver thee not only from the fury of war, but also from the strife of tongues. This - This blessed condition, is the portion allotted them by me. Righteousness - The reward of their righteousness. Of me - I give it, and I will continue it to them.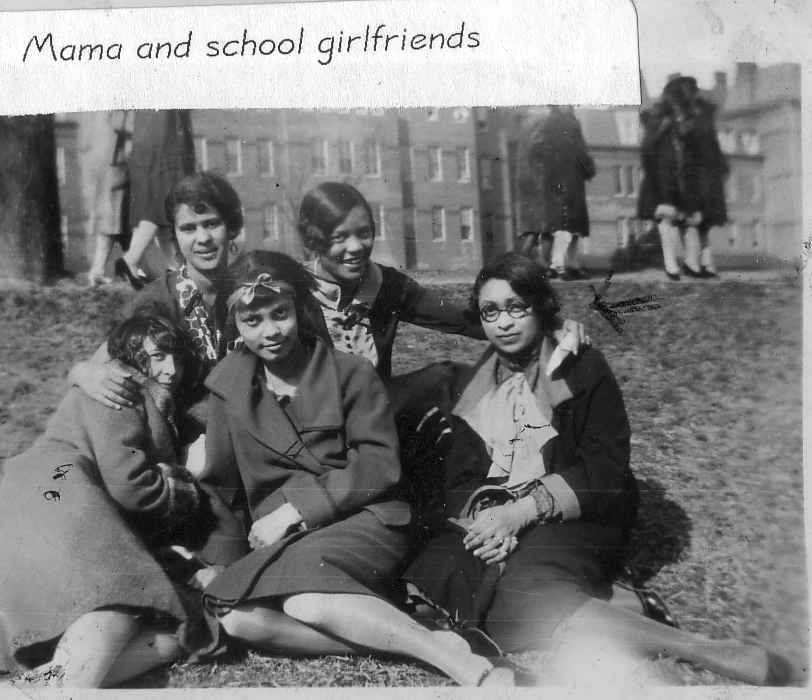 By the time of her graduation on the scholarly hill high above the Appomattox River, Cora and her classmates had seen and heard the good news of an enlightened education to be helpful and useful for not simply them and theirs, ... but all God's children, Black, White, Native American and all the peoples of the earth because Christ asked of them to do so.
She and they would hardly spare a moment before launching into life-times of involvement in organizations such as "The Lott Carey Baptist Foreign Mission," and the "National Association of Colored Women's Clubs" in addition to their local community churches, Sunday schools and public schools.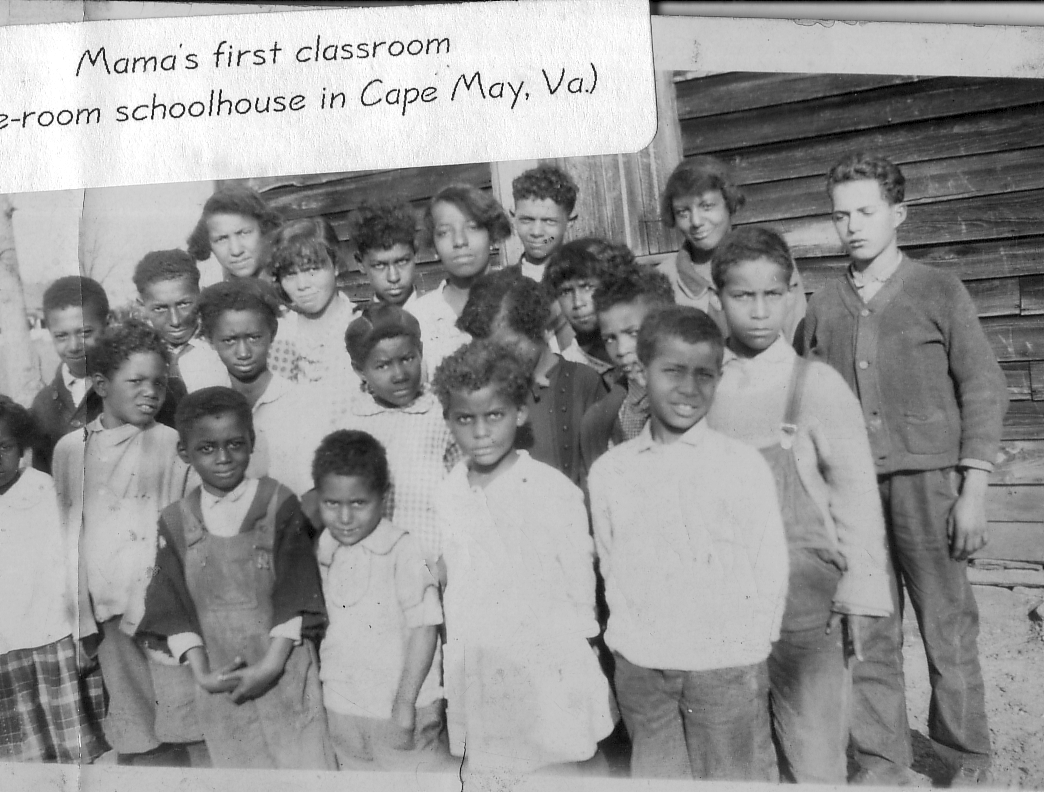 Cora's first employment opportunity to teach was in a one room rural school for poor children whose parents, for the most part, could not read or write very well but were filled with the faith, hope and love to motivate their offspring to value education.
It was therein that Cora internalized her "calling" to teach wherever God sent her. She learned that most of the children came of families with barely enough money and other resources to feed and clothe them. It was a challenge to her faith to challenge and motivate older children to seek higher education; but, she did so. Her philosophy of life centered on belief that "God will provide to believers."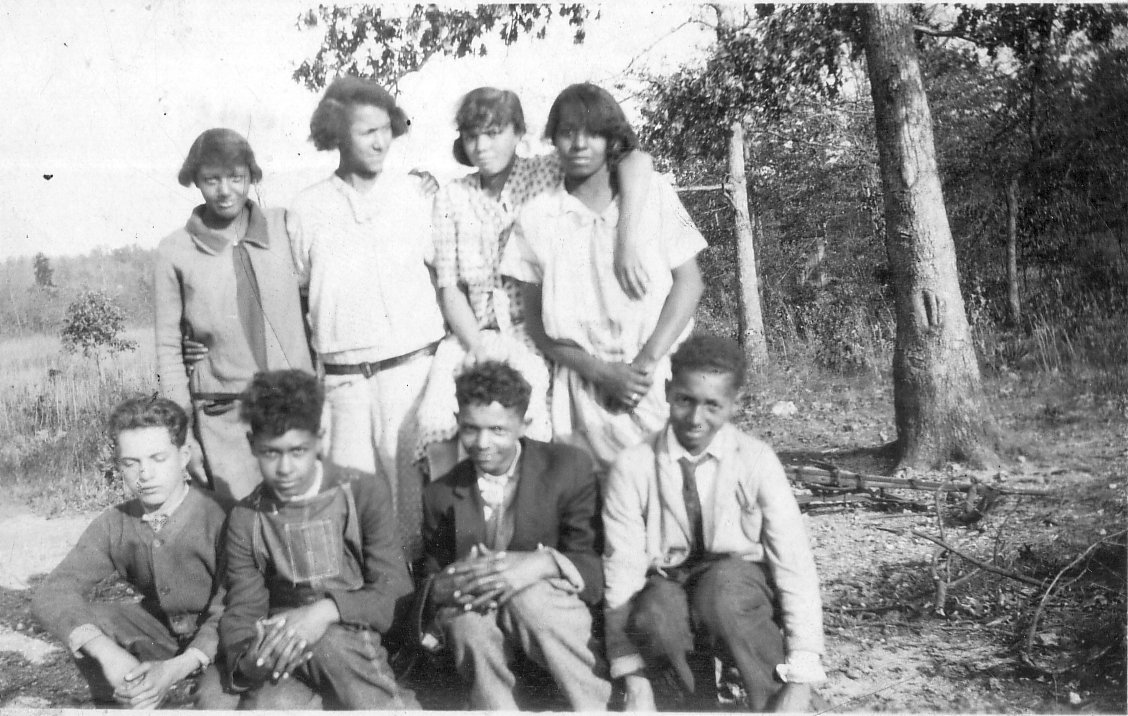 She counseled students, family members and others for rest of her life to seek higher education even without ready funds or scholarships. And for the rest of her life she remained most proud that eight of her one-room school original 25 students went on and upward in graduating from college.
She wrote them well into the years of World War II when some were serving in the U.S. military services, ... and on occasion wrote their families in Virginia urging them to keep the faith.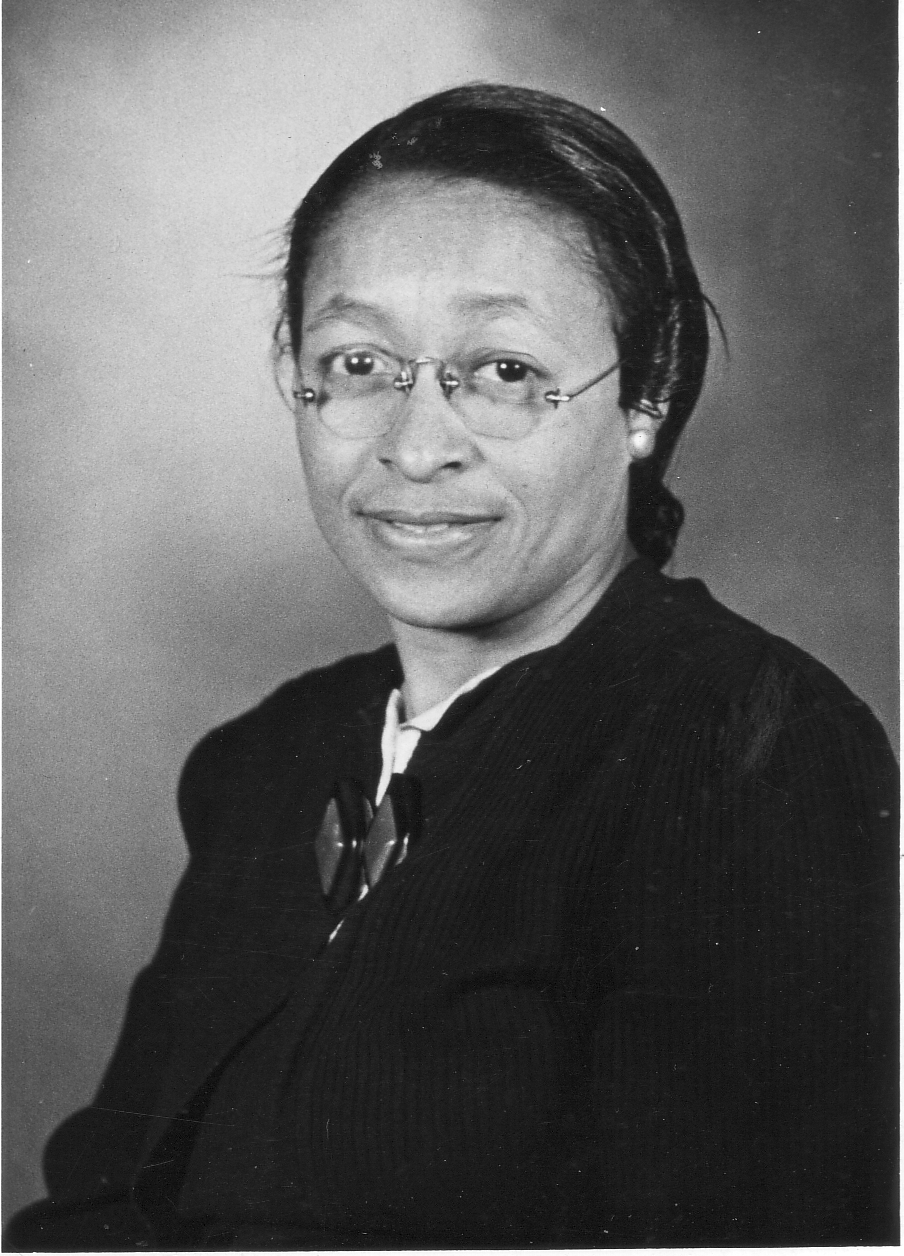 Marriage and relocation to Pennsylvania in 1928-1929 with her coal miner husband during the economic depression proved disappointing to her aspirations to teach in Pittsburgh regional public schools wherein race mattered far more than abilities, and quotas were rigidly enforced against hiring Negroes.
State laws dating back to the beginnings of public education requirements demanded that school districts also educate non-White residents but there were no mandates to employ them as teachers. Pennsylvania did have a segregated college (Cheyney State Teachers College) for training African-American teachers but very few school districts other than Philadelphia wherein they could work.
It was the worst of times for women like her who had hoped for an opportunity to be helpful and useful in the cause of uplifting children to a better life; but, she and others had completely misread the anti-Negro sentiment that existed in places like Western Pennsylvania flooded with pre-World War I immigrants from Ireland and Italy and post World War I immigrants from eastern Europe along with hundreds of thousands of "the least of us" from behind the cotton curtain.
William Thomas Frog Kyle Atkins, born 1906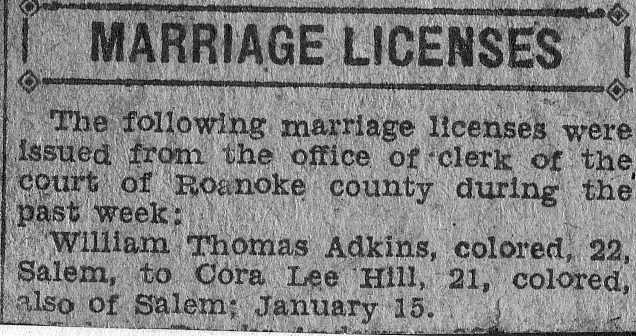 Though certified, rated, experienced and ready in the State of Virginia, like Nancy Lee and her great Christian friend Mrs. Denzel Tolliver, ... she also experienced denial for employment as a teacher in Pennsylvania during a time and place that few, if any, teachers of African-American heritage were hired.
It did not matter if they attended colleges in Pennsylvania or elsewhere, ... the pre-World War II racism was at its height worldwide and almost unanimous in agreement that women like Cora were not qualified to teach or influence attitudes and behaviors of White children or even Black ones if alternatives were available such as the offspring of immigrants in the American dream.
In those days of woe and wrongs in the name of education, it was not necessary for any school board to give a reason for rejecting applicants like Cora, ... merely have the school secretary advise her that no positions were available even if advertised in the newspaper want ads. Virtually all labor unions, excepting the United Mine Workers, were adamantly opposed to hiring Black men for any and all skilled labor jobs; and, the sentiment was no less strong among other working professionals such as teachers even for African-American children.
But, it was only the beginning as she used her access to youth in her church networks and community to counsel dozens if not hundreds of Black youth to seek higher education, ... evidenced in part by the flood of applicants and attendees in the region to traditional Black colleges and universities during the era of 1930 to at least 1980. When potential students complained about a lack of money, ... her counsel was always the same, "Have faith, God will provide."
Cora would go on to motivate, tutor and sponsor not only seven of her nine children through college education but also in-laws and others including offspring of neighbors. In due time, after four of her daughters became teachers, ... she would rise to become Vice-President of the Parent Teacher Association in school system that refused to hire her as a teacher.