Manchester, Virginia is a former independent city in Virginia in the United States. Prior to receiving independent status, it served as the county seat of Chesterfield County, between 1870 and 1876. Today, it is a part of the city of Richmond, Virginia.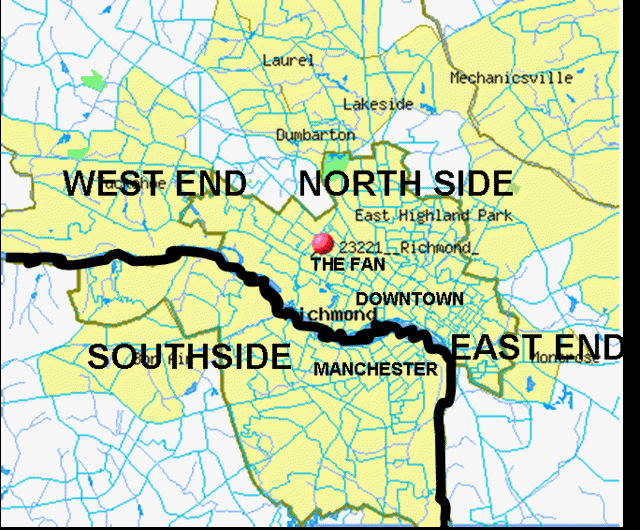 Originally known as Manastoh and later Rocky Ridge, it was located on the south bank of the James River at the fall line opposite the state capital city of Richmond, on the north side of the river. Manchester was an active port city, and was a port of entry for slave ships principally in the 18th century. The port shipped out tobacco and coal which was transported 13 miles overland from the Midlothian-area mines on the Midlothian Turnpike, first paved toll road in Virginia in 1807, and the Chesterfield Railroad, the state's first in 1831. Manchester became an incorporated town in 1769 and an independent city in 1874. In 1910, it merged by mutual agreement with the larger state capital City of Richmond, achieving another "first" as the earliest of Virginia's independent cities to lose its identity.
In modern times, "Old Manchester" is considered a neighborhood of Richmond. Many vestiges of its past are clearly visible, notably the courthouse, the Hull Street business district, a number of historic houses, and several former railroad and street railway buildings. As part of the community's African American heritage, a "slave trail" traces the route into the downtown area from where the slave ships are believed to have docked along the river. Interstate 95, and four other major highways, U.S. Routes 1, 60, 301 and 360 all cross the James River and enter downtown Richmond from Manchester.
Thomas Findley fathered many children, and apparently during and after the Civil War had a familiar/family relationship with the Lee-Findley offspring birthed by Nancy Lee Bannister, born abt 1825.