William Monroe Trotter
From Wikipedia, the free encyclopedia
William Monroe Trotter (April 7, 1872 - 1934), was born to James Monroe Trotter and Virginia Isaacs Trotter in Chillicothe, Ohio. His father James, son of a Mississippi slave owner, served honorably with the 55th Regiment of the Massachusetts Volunteer Infantry Colored during the American Civil War.
His mother Virginia Isaacs, according to family tradition, was a great-granddaughter of Thomas Jefferson and Mary Hemings, the sister of Sally Hemings.
Shortly after the war, the Trotters settled in Massachusetts. Their first two children died in infancy, and it was for this reason that young William's parents had returned to rural Ohio for his birth. At seven months, young William and his parents moved back to Boston where they settled on the South End, far from the predominately African American West Side. The family later moved to suburban Hyde Park, a white neighborhood.
James Trotter was a man who broke through most racial obstacles placed before him. During the Civil War he achieved the rank of 2nd Lieutenant. He was later appointed Recorder of Deeds for the District of Columbia by President Grover Cleveland, a role filled by two other prominent men of color of that era, Fredrick Douglass (1881-1886) and Senator Blanche Kelso Bruce (1891-1893). He undoubtedly instilled similar values in his son William, who graduated Valedictorian and President of his high school class.
William Trotter went on to Harvard University to pursue a career in international banking, graduating Magna Cum Laude in 1895, and becoming the first man of color to be awarded a Phi Beta Kappa key. He went on to earn his M.A. from Harvard in 1896. But, even with all his admirable academic achievements, Trotter hit a racial glass ceiling, frustrated in his efforts to excel in his chosen career. It is for this reason that he finally settled on a career in real estate, and later, newspaper publishing.
On June 27, 1899, he married Geraldine Louise Pindell (October 3, 1872 - October 8, 1918). In 1901, along with Amherst graduate George Forbes, he co-founded the Boston Guardian, setting up shop in the same building that had once housed William Lloyd Garrison's Liberator. The Guardian's main target proved to be Booker T. Washington. There were frequent editorials and letters opposing the conservative accommodationist policies of the well known founder of Tuskegee Institute. Along with W. E. B. Du Bois Trotter was a charter member of the Niagara Movement in 1905, an organization of African Americans that renounced the ideas set forth in Booker T. Washington's Atlanta Compromise speech of 1895. Trotter soon left the Niagara Movement to form the National Equal Rights League. The Niagara Movement was instrumental in the later formation of the National Association for the Advancement of Colored People in 1909.
As a political activist, Trotter led protests against segregation in the federal government, and picketed the stage production of Thomas Dixon's Birth of a Nation in Boston, ultimately forcing it to close. In the pages of the Guardian, he decried the plight of the Scottsboro boys. In 1912 Trotter helped support Woodrow Wilson for president, who in turn oversaw the segregation, and later expulsion of African American federal employees. Trotter and a group of African Americans went to the White House to protest President Wilson's actions. Offended by Trotter's manner and tone, Wilson banned him from the White House for the remainder of his term in office.
On the night of April 7, 1934, William Monroe Trotter either jumped, or fell to his death at his home in Boston. The cause of death was given as "Unspecified". It was his 62nd birthday.
In 2002, scholar Molefi Kete Asante listed William Monroe Trotter on his list of 100 Greatest African Americans.[1]
We differ somewhat on this site with the above account regarding William's ancestry, but believe he was indeed of Hemings lineage but not that of Thomas Jefferson. And, we think he was too harsh about Booker T. Washington who lived among the ex-slaves and their offspring who had not left the hated southern way of life. Booker T. understood the federal government was not going to protect them from the hatred that dominated White southerners in the face of northern indifference in the last two decades of the 19th century.
The movement of Colored Troops from the south gave near instant birth to the Ku Klux Klan by former slave trader and confederate general Nathan Bedford Forest, ... located in the mountains of Tennessee wherein many ex-confederate soldiers joined to launch a terrorist campaign against Black empowerment. Established and operated like a modern terrorist organization with local cells/klans, ... it was militarily very effective by 1890 in essentially re-enslavement of African-Americans still in the former rebel south and even extending beyond into the non rebel states like Indiana.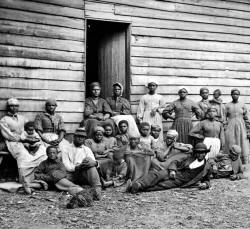 By now as reflected throughout this site, it should be obvious to novelists and other writers, and even preachers, ... that goodness is a product of generations of beliefs and faith that it is to be had not simply for individual salvation but everlasting life itself.
Writing silly Sally novels about "The Fire Next Time" or Pentecostal feel-good sermons and shouting about "Armageddon" without having ever visited Gettysburg or thousands of other fields of fire and destruction where spirit of eternal goodness triumphed, ... is a imitation of life and distortion of faith that lifted us up. Indeed, how many times must HE come for fools to believe.
The notion of individual salvation is a fallacy out of Africa that men such as above were obviously not indoctrinated to believe. Indeed, individualism is a selfish learned attitude and behavior that kept millions of African-Americans in bondage even after the Civil War ended. The hero in our faith, so we believe, is Christ who lifted us up as tools in HIS time-line of generating goodness, ... not that of human hands who wanted to. We further believe that men like Trotter, DuBois and King like Douglass, Truth and Tubman before them were driven by spirit of goodness that is the mystery of our faith rooted in what we believe; ... and as believers we simply do not know for certain why some men fought and died that others, even those deemed less worthy, might live in liberty.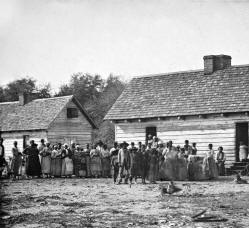 Our only argument with William Monroe Trotter, the gifted and talented advocate on behalf of "the least of us" is ... neither he or his friend Dr. Dubois, seemed willing to accept that goodness had to be generated and could not be mandated or given by people not willing to give or receive it. Their indictment of Booker T. Washington was founded on belief that Washington accepted the inferior status of African-Americans in post reconstruction south, ... those who had generated no sons (such as the Trotter and Dubois ancestors) in the great struggle to set them free.
Frederick Douglass lost his only son who was killed in the fighting and Trotter likely lost an uncle and other relatives for whom his father no doubt mourned for rest of his life. It can be assumed that at least 25 percent of the Trotters who joined the Union forces were killed among the more than 40,000 who died in action, and many known to the father of Monroe Trotter. A man is his father's son best known to God and most often forgotten by "the least of us."
Yet, the reality is that we now know the same genetic strains judged inferior would within a hundred years generate superior souls such as Medgar Evers, Martin Luther King, Jr., Jesse Jackson, Jackie Robinson and tens of thousands of other young men to wage a different kind of war for salvation of "the least of us" in a time-line not of our own making, ... but that of divine intervention which we dare not neglect to consider in thinking about the Civil War and all the young men named Trotter by dozens of unknown mothers and even fathers.