Our story, as the great-great grand daughter of Madison Hemings, is rooted in the Madison Hemings' Story that begins by acknowledging knowledge of his great grandmother and great grandfather. We are confident that his grandmother and mother likely recited to him what they had seen and heard, and wanted him to know. He was not an urban fiction writer so we have no reason to disregard what was given and published.
The Hemings generations that we know best began in year 1735 with the birth of Elizabeth (Betty) Hemings as the daughter of a whaling ship Captain John or William Hemings and a slave woman named Susana owned by Francis Epps at his James River plantation known as Eppington. Betty came along at a time and place wherein the British Government had stopped the practice of American colonists importing slaves from Caribbean colonies like Bermuda and Jamaica, ... rather than coastal slave castles owned and operated as slave production factories by the British crown.
We do not know whether or not Elizabeth (Betty) Hemings was conceived in lust or love but can ascertain that she was born, and a true patriot by virtue of her deeds remaining loyal and securing the person of Thomas Jefferson in the American Revolutionary War that raged during 1775-1783. She was not only a mother of the American Revolution but a legacy that provided her offspring and their offspring with a well documented heritage of sons and daughters of the American Revolution: shared with the offspring of well known fellow patriots William and Frank Lee .
Our stories about "the least of us" in human history is that we dare not forget they also were brothers and sisters in the Christ they believed in even though bound in the peculiar institution of chattel slavery that by traditions and law deemed them to be little more or less than valued property asserted in the United States Constitution enacted as law in 1787, after the Revolutionary War. It matters to us that Betty Hemings and William Lee among hundreds of thousands more: mattered in a Living Christ and thus we are inclined to believe many believed in a matter greater than documented laws and slavery. Dr. Martin Luther King, Jr. in one of his last great visionary sermons he spoke about "the promised land" a matter deeply entrenched in the souls of Black folks who were and are believers; and we dare not imagine, without denigrating ourselves, that previous generations lacked people with such soulful yearnings. We are not the first generation in the spirit of Christ, and neither were any of the founding fathers our fathers and mothers even risked their lives to serve well in the revolutionary causes of life, liberties and pursuit of happiness.
For more than ten years we relentlessly pursued the identity of our ancestor Betty Hemings before, during and after the Monticello days, nights, weeks, months, years and decades of Thomas Jefferson and her beloved baby daughter Sarah (Sally) Hemings and other offspring. In the beginning of our journey to know more, we did not know exactly why so many descendents have gone to the mountain-top that was inhabited by so many ancestors. Jesus himself raised the question likely applicable to all, such as Nancy Harriet Lee, see: Her Heritage Notes who traveled in search of goodness:
"But, what went you out for to see? A man clothed in soft raiment? Behold, they that wear soft clothing are in kings' houses."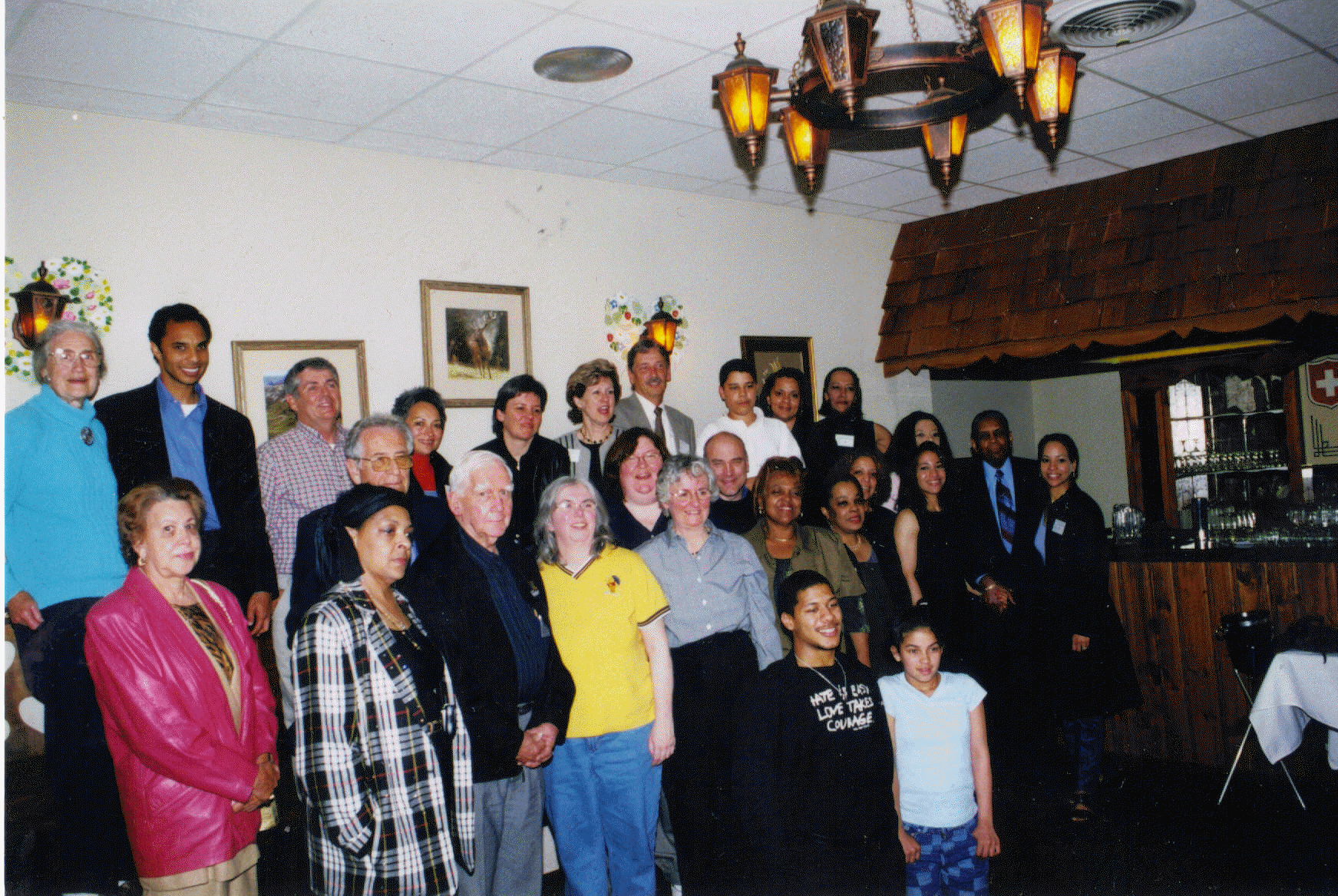 IMAGE: Mary Elizabeth (Betty) Hemings Butler Lee Brady-Atkins and descendent cousins/claimants at Jefferson Foundation Family Conference.
Like millions of other visitors, we have made the pilgrimage to Monticello wherein our minds were open to the home of Thomas Jefferson whose genius was used to write the American Declaration of Independence, ... but we went to find more about "the Word" than is written by scholars or portrayed by artists. We sought to find more bits and pieces about our ancestral roots both in Africa and Europe that generated slaves and slave owners, respectively. The below link has been prepared by the Thomas Jefferson Foundation to help those who seek more than the eyes can see.
http://www.monticello.org/gettingword/lifeat.html
And we can now answer with a degree of certainty, our search was not to view the genius of Thomas Jefferson but mostly about our own sense of self-worth embodied in the DNA of Betty Hemings who functioned her life helping and loving others; and, therefore is greater to us than all the aristocrats who ever lived or visited Monticello. It was Betty Hemings, not anyone else, ... that inspired us to research about the lives of so many other souls that lived and died that we may now exist in life, liberty and pursuit of happiness.
The most valuable sources of information found to-date in addition to Madison Hemings' Reminiscences have been Thomas Jefferson's Farm and Garden Books (with some pages and topics obviously blanked out/removed by unknown persons) which provide somewhat of a detailed overview of who, what, when and where between ancestral years between 1773 and 1820, ... during which period we believe most slaves in Virginia were apparently targeted by circuit riders or actually converted to fundamentals of Christianity.
To their ever-lasting credit, many slave owners were believers and made efforts to allow the propagation of the gospel among slaves, ... albeit most were fearful and very concerned that such would lead to slaves seeking to be born again as free souls on earth such as themselves.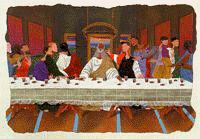 Much has been written by descendents and scholars about existence of Betty Hemings as mother of Thomas Jefferson's concubine Sally Hemings. But our quest is for much more about what matters more, ... the DNA sources and consequences of her existence and our own. Born a slave on a James River Plantation among aristocratic aspiring Virginia planters, Elizabeth (Betty) Hemings was fathered by an English Sea-Captain who was a likely associate of the slave buying Eppes family.
A first question is how did she come to be before her sexual unions generating seven generations within body and spirit of Christ to-date? Thus, a second question is how and when did Christ enter the life of her and offspring generations? The above painting by Afro-Centric artist Leroy Campbell gives us cause to think about what matters most to us, and thus imagine it also mattered to our ancestors living on Mulberry Row at Monticello. Click below for a link to Monticello and then return:
Prior to the British embargo in 1733 against colonists in America importing their slaves from British Caribbean colonies, ... English whale ships and other kinds could engage in triangular trades in whale oil, slaves, rum, tobacco or any other commodities valued in British controlled locations in Africa (The Gambia and Bance Island of modern day Guinea-Sierra Leone) the Americas and Caribbean.

From what we know, Betty's mother and even grand-mother and her siblings may have been brought from Africa in one of those horrible 6 to 10 weeks journeys in which upwards of half the enslaved cargo often perished. Such may have occurred with the mother of Betty Hemings' mother, ... though the possibility exists that she died before being shipped or was sorted and sold to a buyer different from that of her daughter, daughters or sons if such existed. Indeed, slave castles were referred to as "factories" by both Christian and Jewish slave trading firms wherein values were factored on the basis of weight, estimated age, sex including physical attributes, and market prices.
We are inclined to believe Madison that Betty's mother was born in Africa and we estimate it was around 1720, ... and that she was likely a household servant to the Eppes family in Eppington. We speculate that she was about 14 to 15 years of age, when she became pregnant with Betty born in 1735. Yet, indicators are that her mother was likely the body servant of Martha Epps since teen-age years of both, and given as a customary wedding present by her owner, Francis Epps, upon marriage of Martha Epps to John Wayles. We do not know if Betty & mother were considered to be dowry slaves.
Both wife Martha and body servant became property of John Wayles that included Elizabeth (Betty) Hemings fathered by John or William Hemings. But the truth about Elizabeth (Betty) Hemings, like her father, did not begin in America. It began many generations before in "peculiar values" of human predators and bondage made holy by men in robes of sheep but in actions embraced as raving wolves.
The slave trade was not something that normally happened. It was decidedly abnormal and evil behavior. It could only have come into existence by virtue of theologies such as Aksumite priests making it acceptable, ... that of Romans who sought to kill spreading the body and spirit of Christ, and formed alliances in Africa to do so. We urge viewers of this site to remember that long before slaves came from Africa to Jamestown, the evil practice and trade existed in Africa from east to west and north to south, ... killing, raiding and exploiting human beings for sale to peoples in other lands including: Semites, Greeks, Romans, Persians, Turks, Europeans and Americans. No hands were clean or souls innocent.
We choose to first blame the now deceased Aksum Empire for its failure to initiate actions in the first through sixth centuries to spread the good news of Jesus throughout Africa. And, instead the ruling culture depicted by Ethiopian Orthodox priest on left, ... apparently chose to gather and sell slaves and wild-life to the Roman Empire, and when the Moslem conquest came there were few, if any, cultures able to withstand the truths that killed, enslaved and isolated most millions of Africans to lives of degeneration, ... long before emergence of the slave trade that generated Elizabeth (Betty) Hemings.