Easter Frog was the daughter of a Cherokee Native we believe to have been Spring Frog and a enslaved African heritage mother, name unknown. She was born in Easter season (Cherokee traditional naming of a child according to season of birth) and we estimate the year to be about 1810, based on ages of her known offspring including Adaline Frog, born abt 1849 a very religious woman who made clear that her mother Easter lived as a Christian believer; but no discussion of her father, a taboo topic even after slavery had ended. Slave owners had a lot of functional power over not only their slaves whose mouths were sealed but also their employees, wives and relatives even after slavery was ended.
Easter Frog like so many thousands of African heritage mothers during the years of ante-bellum slavery was a concubine and as Booker T. Washington later observed, slaves never discussed what was known and obvious. Even the legitimate White relatives and wives of slave owners avoided the topic. An excellent example is that of Sarah (Sally) Hemings Wayles, born 1773.
Whatever the case may be we are heartened by our belief that she and her offspring were believers in the functional faith evidenced by their pursuit of organized religion and the institutions of marriage therein. For this knowledge we are thankful in trying to understand who Easter was.
african+american+cherokee+indians
We do not know for certain which county Easter Frog was born or recorded in as chattel property or a free colored woman, but relatively certain it was in one of the southwestern Virginia Counties: Franklin, Pittsylvania, Roanoke, etc. where slave owners sought to grow tobacco, grow corn, raise hogs, mine coal, and make whiskey for the growing markets around Richmond.
Another oral history story handed down by relatives born at least three generations after the facts is that mother of Lilly and Adeline Frog was born in the Easter season (suggesting persons who gave her that name were likely Christians of Native American heritage) and thus given name of Easter Frog, ... by which we are able to reasonably confirm via the DNA of Cora Lee Hill's offspring showing a "10-13 percent East Asian DNA link."
It is speculated that Easter Frog was the daughter of Sprung Frog via a union with unknown mother of African heritage who may also have been mother to others. More research is required as to women such as Joanna Lee to determine if she might have been Easter Frog's mother who apparently was born a slave. We are mindful the Cherokee occupants of lands in western Virginia and North Carolina and eastern Tennessee were made to best leave and abandon or possibly sell their properties including African heritage slaves.
Their trails of tears moving westward often left behind joyful and tearful persons they had enslaved, and probabilities that Easter Frog came into ownership by the Armstrong or Dillard families who acquired former Cherokee lands which they used for planting and growing tobacco.
This account has given us a trail to the likely ancestral fatherhood linkage of Samuel Frog born in Salem, Virginia abt 1835 and served in U.S. Army Colored Troops during the Civil War; and likely the offspring of Easter Frog known to have been ancestral kin to both William Atkins and Cora Lee Hill. Our speculation is that she or her mother and both may have been owned and sold by the slave owning and trading Armstrong and Dillard families.
It is doubtful the Armstrong and Dillard family offspring fathered any of the offspring by Easter Frog but rather were owners of both her and offspring per Virginia's laws that bound any person a slave if their mother was a slave.
Gilly Frog Finney, born abt 1845
| Surname | Given Name | Race | Gender | Age | Estimated Birth Year | Relationship | Marital Status | Birthplace | Father's birthplace | Mother's birthplace |
| --- | --- | --- | --- | --- | --- | --- | --- | --- | --- | --- |
It is relatively certain that she was born to a slave or indentured mother because we know her daughter Adaline was born a slave or indentured to the Dillard and Armstrong family in Franklin County, Virginia.
If the mother of Easter Frog had been a free woman, then her offspring would have been likewise classified under Virginia's slave laws. Our speculative estimates are that Easter Frog must have been born at least by year 1810-1812, likely fathered by Sprung Frog as one of the Frog family members of Cherokee natives in western Virginia and eastern Tennessee, .... in order to have generated Lilly and possibly Adeline plus others in menu on left.
It is not clear as to extent of her Cherokee heritage and whether she was ever owned by the Frog family. We have kept in mind that many Cherokee in the area were encouraged and forced to move west around the period of her birth and such might account for Easter Frog and her mother being sold or indentured to the Armstrong and Dillard families recalled by Adaline Frog Kyle in conversations with her grandson William Thomas Frog Kyle Atkins, born 1906.
http://www.aagsnc.org/columns/mar99col.htm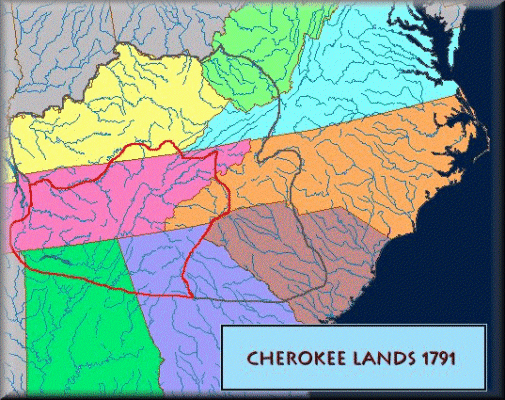 The first United States census occurred in year 1790. Within months of first release of census data gathered there was a great movement westward by land speculators to make and take Cherokee lands available for sale to land hungry tobacco planters, land warranted war veterans and others such as the flood of German immigrants into Virginia.
Prior to the American Revolution that raged from 1775 to conclusion in 1783, most Native Americans like the Cherokee had supported the British, French and Spanish crown governments and colonial authorities because same promised to not allow settlers to invade and occupy lands west of colonial defined borders of states like Virginia.
With ending of the war, Virginia claimed many native lands stretching west and north for White settlers and use of slave labor. Conflicts with the Cherokee and others always ended with various agreements for relocation to lands further west by displaced natives taking with them or leaving behind slaves like Easter Frog.