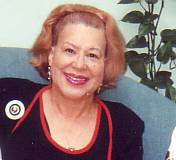 William Beverly Hemings was born in 1847 to Mary and Madison Hemings during the period of abolitionist activism in Ohio by Black, Mulatto, and White Messianic Christians convinced their "callings" were to help "the least of us" down in "Egypt Land" namely Virginia that not only had more slaves than any other state, ... but actively promoted the breeding of slaves as long-term investment properties.
18
Hemmings, William
Union
Infantry
73rd Regiment, Ohio Infantry

---

19
Hemmings, William
Union
Cavalry
7th Regiment, West Virginia Cavalry

---
Our view from data reviewed and knowledge of African-American history during the period of his life is that he not only served in the Union army during the war, but also joined and served as a Buffalo Soldier during the great westward frontier years following the Civil War and thus ended up dying at Fort Leavenworth. General Colin Powell in the 1990s was instrumental in recognizing his proper place and role in history of the United States despite misinformed opinions such as expressed below by author Judith Justus in her book "Down From the Mountain." It is virtually impossible for any writer, Black or White, to know the history of young men like William without study of African-Americans as Americans who contributed to explorations, building and security of America.
http://www.buffalosoldiers-lawtonftsill.org/history.htm
The facts are that many young men like William Hemings did a lot more with their lives than could have been concluded by writers seeking a imagined simple and understandable life according to official records. Indeed, it has only been in recent years that American writers dared to know or acknowledge the thousands of young men of African heritage who helped pioneer the opening of the west, ... ranging from guiding the Mormons across the mountains to protecting railway workers and ultimately defeating and taming the Indian warriors of the plains and southwest, ... and helped in the Mexican liberation struggle to get rid of self-proclaimed French speaking regime imposed over Mexico.
The problem of course is that too many John Wayne and Jimmy Stewart movies by Hollywood directors like John Ford deliberately distorted human history to make believe heroes and heroines Americans in the 20th century wanted. A few directors did make an effort to include people of African heritage in their movies about the western frontier, but then only as renegades or ridiculous miniatures such as Sammy Davis, Jr. to generate viewer amusement at the thought of such a man as him in the wild west. The movement west was never a day without extensive involvement of African-Americans, ... beginning with the Lewis and Clark expedition.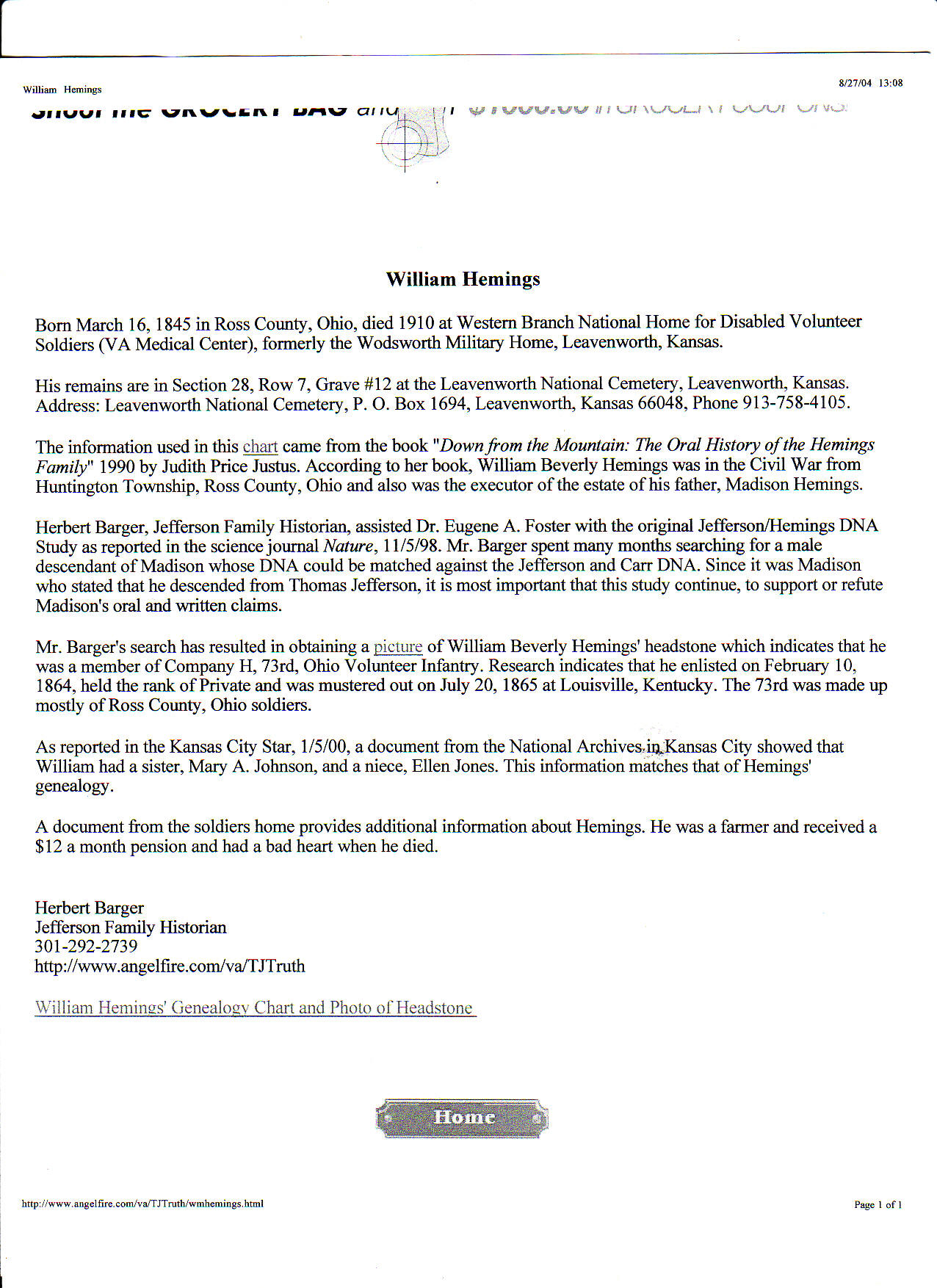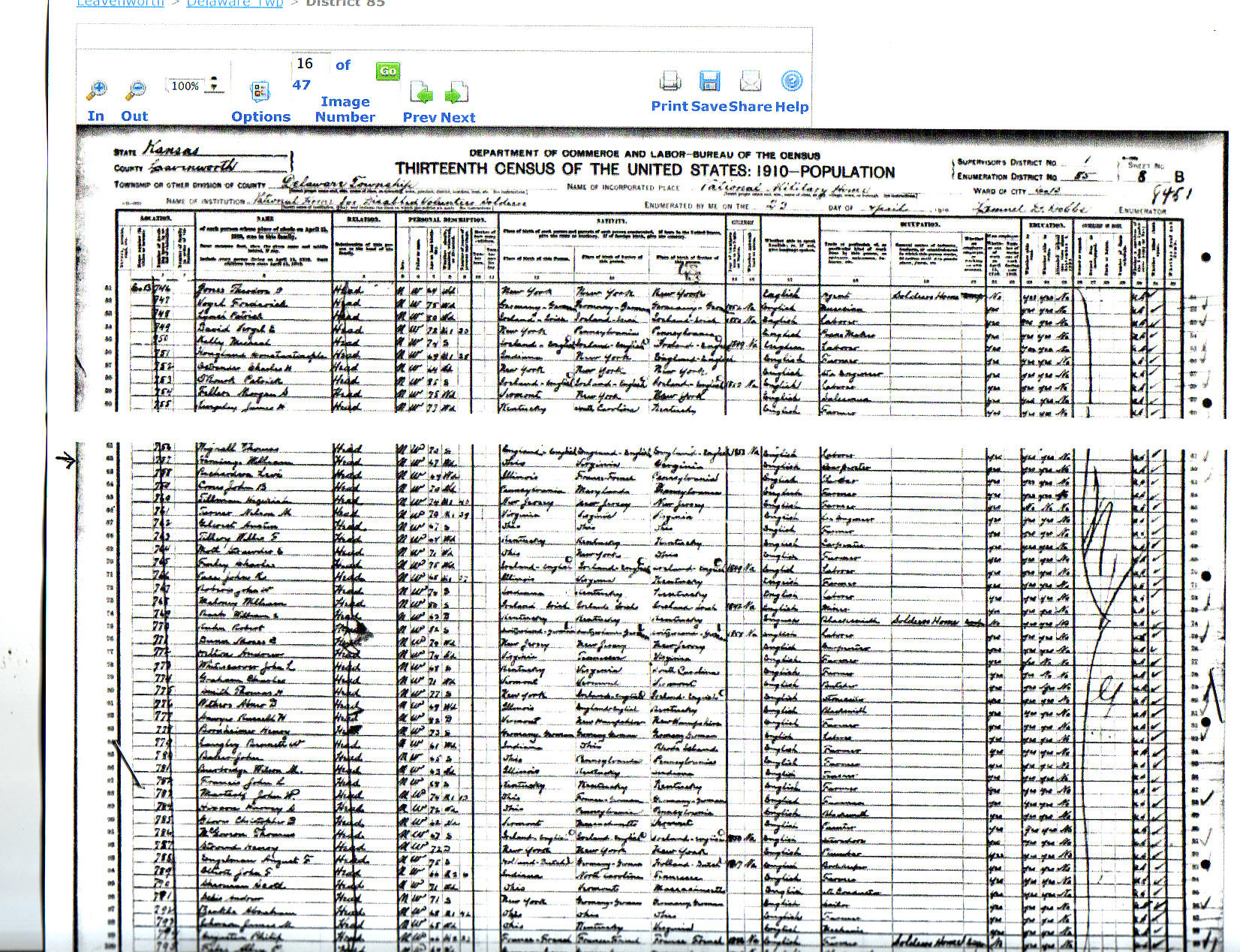 ---

7.
Sex
Name
M
William Beverly HEMINGS (We assume he was named to honor William Wilberforce and Madison's brother Beverly).
Born:
1847
Place:
Ohio
Died:
1910
Place:
Fort Leavenworth, Kansas

---
At the beginning of the Civil War in 1861, William Beverly Hemings above listed son of Madison Hemings would have been 14 years of age and 18 years old by war's end in 1865; ... causing us to wonder if he was the William H. Hemings listed below as a Civil War veteran? The possibility exists that like George Washington Williams and many other young men in many wars, he gave a false age and name modification in order to enlist in West Virginia where he had cousins. The possibility exists there was a second William Hemings as listed below and thus raises the question as to which Hemings and where did they originate?
7

Hemings,William H.

Union

Cavalry

7thRegiment,WestVirginia Cavalry

---