Mary's Message Board includes postings of email inquiries and responses that may be helpful to other researchers, and provide more opinions and sources for potential writers to use. We welcome comments and opinions.
Email should be addressed to: bradyenterpriseassociationinc@verizon.net
Messages are categorized by topic as reflected on menu for this page.
The purpose of this message board is to invite participation in telling new generations what we think older generations have seen and heard. We want them to know that we cared, ... even if our conclusions may be found deficient or faulty. It is impossible for us to be certain about most of the people cited on this site; but, recognize that being silent about persons we know to have existed before us is not useful to those who want to know more. Certainly, many want to know about people like John Hemings Nelson (letter below) who though a slave learned to read and write despite Virginia laws against it. John Hemings Nelson, born 1775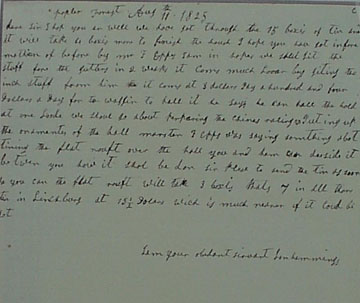 John Hemings Nelson was obviously free enough at Jefferson's Popular Forest Plantation to have known other slaves in Bedford County, Virginia. We are especially anxious to receive any information and photographs pertaining to descendents of Bedford County slaves with the surnames of: Carter, Fuqua, Hemings, Lee, Lowry, and Martin.
We believe every human being has had a story to be told whether by offspring generations or the writers of history and literatures. The site invites writers to at least comprehend that human beings ought not be generalized or trivialized as most great novelists obviously do. And, that geography is a great matter in the stories to be told. From our Pittsburgh view up from generations in Virginia, we can almost close our eyes and see the great stories up and down the Allegheny, Monongahela and Ohio Rivers and all points on the mighty Mississippi racing to the Gulf of Mexico. We very much want more stories about people who made those journeys in toil and joy.